Ormus Minerals Pure Dead Sea Salt Ormus Manna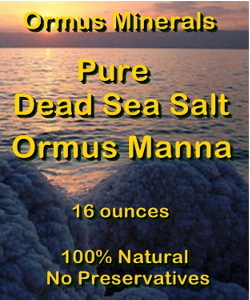 Ormus Minerals




Pure Dead Sea Salt Ormus Manna

Made from the purest essence of the Dead Sea Salts best in the world for natural Ormus Minerals.

Contains a naturally balanced blend of different M-state elements along with natural

Magnesium, Calcium and other essential minerals

Extracted

Ormus

from the Dead Sea Salts for a pure Ormus manna

The Essene say that the Manna made from Dead Sea Salt is 70% M-State Gold

.

6 Reasons Dead Sea Salt helps boost Ormus
Nutritional Value

1

- Adds top quality

minerals

to support your health and energy

2

- Works synergestly to give you the

raw materals

for health & energy

3

-

Gives an additional

boost of energy when combined

4

- Gives your body

all the minerals simultaneously 5

- K

eeps the Ormus Manna pure for a awesome Ormus experience.

6

- F

eeds your

body and mind

Ormus Minerals Pure Dead Sea Salt Ormus MannaIngredients:

Ormus Minerals extracted from Pure Dead Sea Salt.

What Makes this Ormus Minerals

Pure Dead Sea Salt Ormus Manna

Unique?

We start with pure distilled water and then charge the water so it is able to absorb more minerals when we do the Ormus process.

Then we do a complete Ormus Mineral extraction process with top quality know Ormus Minerals Dead Sea Salt Rich in Ormus.

Next we wash the Ormus with charged distilled water again. After several washes this leaves pure condensed Ormus Minerals Manna.

Ormus Minerals: Ormus
Pure Dead Sea Salt Ormus Manna

Ormus

INGREDIENTS:Structured Filtered Water, ORMUS Concentrate from Pure Dead Sea Salts

SKU NUMBER

COST

INFO

BUY NOW

OM-010-SOM-004
4 ounces

$15.00

View
Details

OM-010-SOM-008
8 ounces

$30.00

View
Details

OM-010-SOM-016
16 ounces

$50.00

View
Details

OM-010-SOM-032
32 ounces

$90.00

View
Details

OM-010-SOM-064
64 ounces

$175.00

View
Details

OM-010-SOM-128
128 ounces

$325.00

View
Details